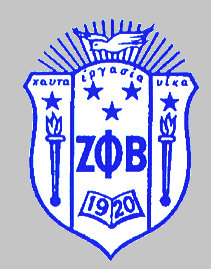 Zeta Phi Beta Sorority, Inc.
Zeta Phi Beta Sorority, Inc. was founded on January 16, 1920, on the campus of Howard University in Washington, D.C. Five women; Arizona Cleaver, Myrtle Tyler, Viola Tyler, Fannie Pettie and Pearl Neal, chose not to embrace the tenets of the previously established Black sororities, and so with the help and encouragement of Bro. Charles Robert Taylor and Bro. A. Langston Taylor, members of Phi Beta Sigma Fraternity, Inc. these five women chartered Zeta Phi Beta Sorority, and are belovedly known to us as our Five Pearls.
Zeta Phi Beta Sorority, Inc. strives to encourage the highest standards of scholarship through scientific, literary, cultural and educational programs; promote service projects on college campuses and in the community; foster sisterhood; and exemplify the ideal of Finer Womanhood. A private non-profit organization, Zeta Phi Beta Sorority is incorporated in Washington, D.C. and in the state of Illinois.
Since it's inception, the sorority has chronicled a number of firsts among the established Black sororities.
The objectives of Zeta Phi Beta are to foster the ideals of service, charity, scholarship, civic and cultural endeavors, and Finer Womanhood. These ideals are reflected in the sorority's national programs for which its members and auxiliary groups provide untotaled hours of voluntary service to staff community outreach programs, fund scholarships, support organized charities, and promote legislation for social and civic change.
---
Zeta Phi Beta Sorority,Inc.
National Headquarters
1734 New Hampshire Ave., N.W.
Washington, D.C. 20009